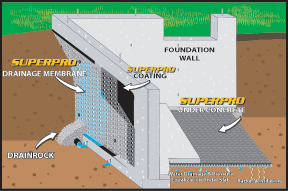 Protective Waterproof Barrier SUPERDRAIN Mats are made from tough long lasting plastic. The stop waterpenetration and protect liquid and self adhesive applied coatings.
Geotextile Layer SUPERDRAIN Mats have a GeoTextile cloth layer heat fused to the dimpled sheet. While filtering out dirt and sand particles they provide a free flowing drainage system
Heat Fused All SUPERDRAIN Mats are heat fused together. The prevents the geoTextile layer from delaminating and blocking the drainage path.
High Flow Drainage The drainage path controls the flow of hydrostatic water proessure creating dryer and lighter soil loads reducing stress on walls and roof structures.
AREAS OF APPLICATIONS
Residential, commercial & industrial applications

Foundation walls & parking decks

Protection of waterproof coatings

Landscaping, green roofs & retaining walls

Blind walls, tunnels & bridge construction